New Year Tapas and Wine Walk was our kick off of 2022!
The second day of the new year started with sunshine and blue sky.  I knew it would be a perfect day to eat out ✨ After the gym, I hurried to shower and we were off to our New Year Walk around 3:00 pm. We had a bit late start but we got lucky and found a table at veladores(outside seating)! It's a place I have been eyeing on….
They use Lola Flores' iconic look as a logo to emphasize their Andalusian gastronomy 👏🏼👏🏼👏🏼
Lola Flores was an internationally known artist from Jerez
. It's been almost 30 years since her death but her fame and the love for her never fade away.  She appeared in numerous movies,  TV shows and series, theaters… as a singer, dancer, actriz… What can I say she was Artist! Above all, her personality was amazing and charismatic ✨ Flamenco peeps also love Lola ❤️ Que arte tenia la Lola!
I started with drinking Manzanilla(wine from Sanlucar de Barrameda). Of course Javi's choice is cold Cerveza (beer)!
Ensaladilla Años 90 (potato salad "from the 90s") Why 90s? I think because it has tuna 😅
The sign with Lola's "look" 👁👁
Canapes de Pringá Ibérica (Shredded Iberian pork mixed and cooked with fat over a thin toast)….. so yummy! Our friend who was working in the cocina (kitchen) spotted us and sent us this treat 🤤
This vino tinto (red wine) was awesome. I was going for my usual Ribera del Duero but the waitress recommended this. It is a blend of three types of grapes: Cabernet, Garnache and Moristel. I got to remember this! 
The shapes of these croquetas (croquettes) were a bit uneven but they were very tasty. They had blue cheese inside and had marmalade on top (I forgot to ask what kind…). They normally have various types of croquettes.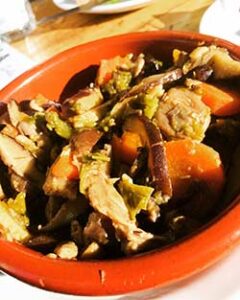 Caldereta de Setas al Amontillao (Wild mushrooms stew with Amontillado sherry) . For me, I needed more salt…🍄 So I asked for salero (salt shaker).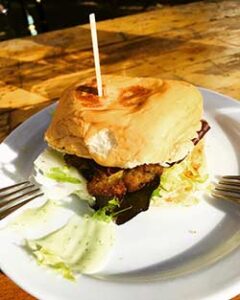 Hamburguesa de Choco (Squid burger)was surprisingly wonderful!
Champiñon Relleno (stuffed mushrooms)had cream and cut jamón inside. Totally approved!
We enjoyed all the food, wine, beer and sunshine until the end. It's nice to have a day like this in January…. We ❤️ Sevilla! They made it to our "keepers" list ✨ so congratulations! 😆
I say New Year Tapas and Wine Walk was a great success……
➡️  Lola por Dios Alameda ✨ Alameda de Hércules 58, Sevilla


Please click here to support my blog for the ranking. Thank you / Gracias! 

Please click here to support my blog for the ranking. Thank you / Gracias!