Day 3 . We were off to see what more Mallorca has to offer!  Our first destination was a town of Sóller, which is about one hour from Alcúdia Bay where we were staying. It is located on the west side of the island and we had to cross Sierra de Tramontana to get there.
Sierra de Tramontana is recognized as UNESCO World Heritage Site!
Sóller Tramontana Deià one-day Model Itinerary
One-day Model Itinerary:
Town of Sóller – a lively town with a town square that has lots of cafés and shops
Port of Sóller – a port with a beach and seafront restaurants
Cala de Deià– a cove near the town of Sóller
Town of Daià – a small quaint mountain town
See below how we accomplished all!
Town of Sóller
Driving through the mountain was amazing… but we had to go through some tunnels like this:
Without much hassles, we arrived in the town of Sóller. It happened to be Saturday and we were lucky to find the street market going on. They were selling all kinds of goods and goodies! It was fun just looking around, mingling with locals and being tourists 😆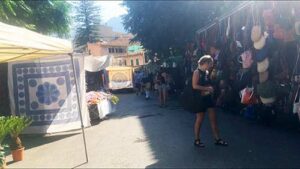 In front of the town cathedral, a band was playing and making the ambience full of energy!
Colors, colors, colors!!! 

Little trams go back and forth between the town center and Port of Sóller.

Here we found a young entrepreneur! His mother told us that he had an business idea and he went with it. Sóller is known for their oranges and he sells freshly squeezed orange juice. It was very refreshing!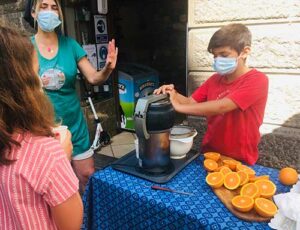 Sóller is known for great oranges!
After browsing the market, we decided to take a break at a café. We ordered an "Orange Sóller", a special frosty drink with freshly squeezed orange juice and cream.  So yummy!
In front of the cathedral, Calle Luna starts from the town square. A variety of shops line up on this street so if you are a shopping lover, here's your place to go wild!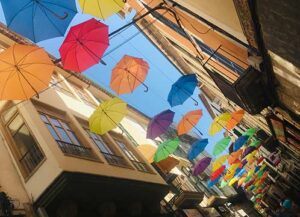 Fun installation of colorful umbrellas over Calle Luna. 
Since shopping is not my cup of tea 😅, we just peeked at the street and kept on going to the next destination: Port of Sóller.
Port of Sóller
Off to lunch in Port of Sóller which is about 20 minutes from the town on the tram.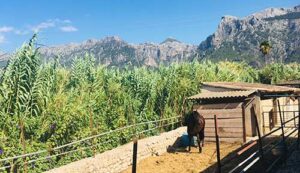 On the way to the port, we could see the Sierra de Tramontana behind us ✨
We arrived at the port but the tram kept going along the coast line so we decided to get to the other end of the beach and walk back. You can enjoy a nice view of the port as you stroll along the water.
After a while…, it was time to get serious about finding a place to eat!
Choosing a Good Place to Eat:

I have my personal criteria for finding a good eating place in a touristy area. Here, I share a few important points.
Avoid places with lots of signs and advertisement. 
It doesn't have to be a busy place with lots of tourists. 
Avoid places that offer a course menu. 
We struck gold today 🤩 with this restaurant Nunu.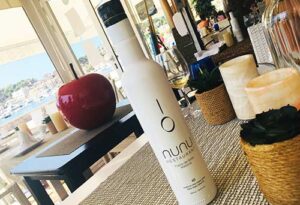 They have their own olive oil, too, cute✨
Today I ordered a white wine – Albariño (it's a wine from Galicia, north of Spain).

They offer cuisine made with locally-grown fresh products and fish and seafood including ones caught near the island.

Pulpo (Octopus)

Croquetas (Croquettes)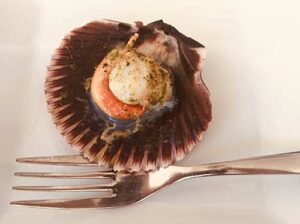 Zambriñas (scallops)

Pan Bao con Cochinillo (Pan Bao with Roasted Suckling Pig)

Pargo al horno(Oven-baked Sea Bream)
Waiter took out the bones and drizzled their olive oil on top. The roasted veggies that came with it were also tasty! He told us that they grow herbs in the backyard of the restaurant 😍 Nice!
Our meal and wine were superb. The atmosphere was nice and comfortable. Service was wonderful, too. We highly recommend this place to anyone ✨

We went back to the town on the tram and we were off to the next destination.
Cala de Deià
After 20 minutes of driving from the town of Sóller, we found an entrance to go down to the Cala de Deià. It was gated due to the Covid situation and a security guard warned us that the parking was full. He also said that we needed to go back up if we couldn't park. Believing in our good luck, we went down the path and, before we got to the parking, we decided to park where we could and walked down.
Off to a hike to the cove!

When we got closer to the cove, we found the parking and it wasn't full….🤔 Oh well.
Passing the parking, you start seeing the opening to the cove. 

Daià's beach is covered with lots of round rocks.

Water was beautiful but there were some seaweeds (or leaves?) that we didn't care for…😖
First thing we spotted was a group of people jumping off of the rock that was quite high…
So nerve wrecking… but it looked so much fun!!! "Girls" (mom and daughter 😂) were up for the challenge but it's definitely easier to say than to actually do it. It took me some back and forth to build my courage up….. 😅
Finally, I jumped and, thank goodness…. I was still alive afterwards 😆 All and all, it was a short visit but at least we got to jump from the rock.
Next time, I want to swim over to see these "tunnels"! 
Town of Deià
Mallorca's day is long. We were able to make it to the town of Deià afterwards.
It is a cute little quiet town surrounded by nature… Just walking around here has some meditative effect 🧘🏻‍♀️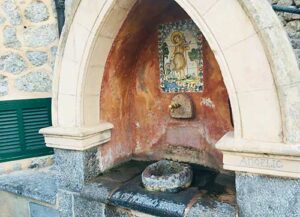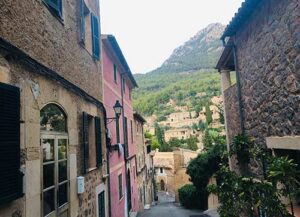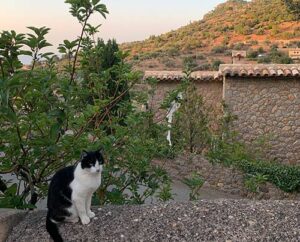 What a charming town ✨ Seeing a glimpse of the sea between the mountain range at the dusk was the last treat on this packed day.
Today's Lesson:
Don't just believe what the security guard says… 😅
Otherwise, our young navigator did a great job today! 👏🏼👏🏼👏🏼

✨✨✨Hope you enjoyed reading "Three ⛰ 🌊 ⛪ in-One Day Model Itinerary " from Day 3. Hop to "Day 4" on Intro to Wildest Cala and Boutique Restaurant! 👏🏼👏🏼👏🏼

Sóller Tramontana Deià one-day Model Itinerary


Please click here to support my blog for the ranking. Thank you / Gracias! 

Please click here to support my blog for the ranking. Thank you / Gracias!