The last day on the island was very improvised but we got to experience everything from Mallorca hospitality to "Snake Cala" ! It was raining in the morning but the weather on the island is known to change often so we were ready for anything.
Small mountain town : Arta
We first visited a small mountain town, Arta. We walked around a little bit but gave up because of the rain. At least, we found this cute little cafe…
It makes you want to stay forever…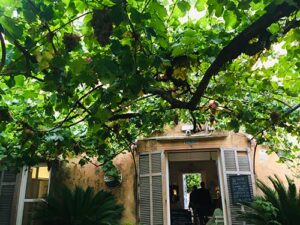 Mallorca hospitality
For the mid day, we were invited to the relatives' home. We headed towards the city of Palma. When we arrived, they had prepared for us typical Mallorcan goodies and beer ✨
Coca de Trampó Mallorquina is a pizza-like baked thin bread. 

This Sobrasada was amazing! They buy it in the Santa Catalina Market we went to on the first day.
A cousin from Sevilla and her partner from Paris have been living in Mallorca for a long time. So they had given us lots of advices for this trip as well. As we were chatting, the weather started to clear up so we decided to squeez in Cala Sa Calobra.
Calobra is Culebra in Castellano (Common Spanish) and it means "snake" 🐍
They said it is their favorite cala as well. It is very famous for its winding roads as the name says 😱 If you like driving, you will get a kick out of it.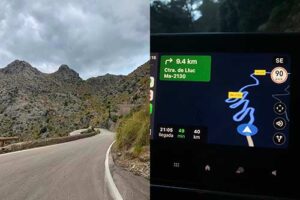 GPS doesn't lie… It was like this the whole time! 
I have been driving for 32 years but I had never seen anything like this…

And this? 😱
I don't know how many curves I had to turn but finally we arrived 😵‍💫 At least, the parking lot was right by the cala. 
Finally! Cala Sa Calobra
From the first sight, it was worth it!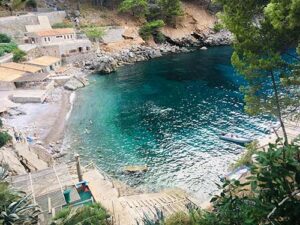 We followed our relatives' advice: "Don't stop at the frist cala, you keep on going to the right…" and we came to a tunnel.
We passed through a few tunnels like this and, in the end, came out to an open space surrounded by rocky mountains. Impressive!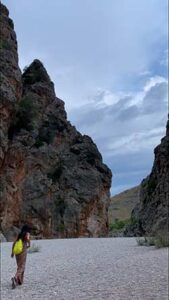 And on the left hand side, there was a narrow cala.
The water is calm and transparent. Beautiful! There seemed to be lots of hippie-type of people 😆 We could hear live music coming from the cave up in the mountain… ⬇️ But I wonder how did they get there? 🤔
Personally, I like much wilder cala but it's definitely worth visiting. There are showers and bathrooms available between the first cala and this second small cala. So I think it's a great place for family with kids, too.
Once again!Valledemossa
At the last minute, we decided to go back to Valledemossa, a town we had visited on the first day.
For these….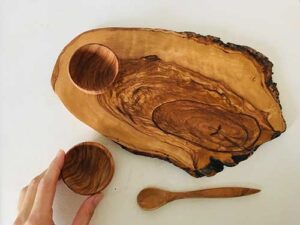 The store closed unexpectedly early on that day so we missed our opportunity to buy them then… I fell in love with them and it was worth going back for. We also bought some Mallorcan goodies, Ensaymada and Sobrasada, in Valledemossa for our family back in Sevilla.

Ensaymada is a round, swirly shaped flat sweet bread. This one had Cabello de Angel (Sweet filling). 

Sobrasada goes well with warm bread. 
Mallorca hospitality to "Snake Cala"…… It turned out a full day on our last day on the island. It is definitely a place that we would like to come back many times!
Reflection of the Day:
It's better to go to Cala Sa Calobra earlier in the day
Try not to drive so much during vacations (Plan things well ahead of time 😅)
This concludes Mallorca travel log series! Until next travel…. hasta lueguiiii 🤗


Please click here to support my blog for the ranking. Thank you / Gracias! 

Please click here to support my blog for the ranking. Thank you / Gracias!