We finally went to a bar that has been on our wish list. It's right near the cathedral. We normally stay away from the tourist area but our "radar" was going off about this place and we had a hunch that it will be great.
Casa Morales ✨
It's been years we had been saying "let's go there"…. but each time we passed by, there were tons of people inside and out. And so we always just glanced and never had stopped… (for not being able to tolerate our hunger, basically 😅). But this time, we got up in the morning and had our mind made up to go straight there.
As we imagined, it was already packed at 14:00 on Saturday. But there's no turning back this time. I've always loved the way it looks from outside – very old-timey Sevilla. This time I paid closer attention and sure enough, there on the sign, it said "Established in 1850". I knew it was a place with a history! 🤩

We always start with our cerveza (beer). 
We waited a few minutes and barra (counter) opened up. I love these old wooden counter ~ another point for Casa Morales! We didn't know before but we could see another room in the back with tables and another counter. Who knew it was this big… I should've tried to eat here before (Patience, my dear hubby, patience…😅 )
The room in the back。These tanks are Tinajas – Apparently, they are ceramic wine barrels.
We definitely like to be on foot at the counter to eat tapas in a place like this. We enjoy talking with camarero/as (waiters/waitresses)also. They told us that the menu was written on the chalk boards.
We came starving and wanted to order everything… 😅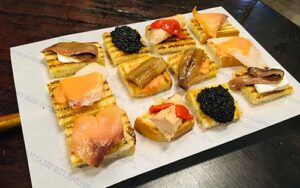 Ahumados (smoked items)〜 Tabla Surtida (assortment board)

My favorite Spanish red : Ribera de Duero ❤️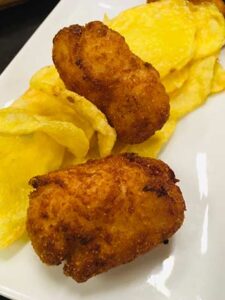 Croquetas Caseras (homemade croquettes)… can't beat the ones my mother-in-law makes (sorry!)😆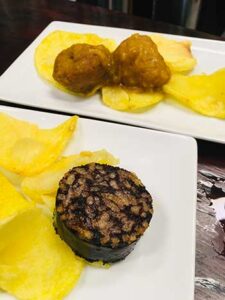 Albondiga de Choco y Gamba (Squid and Shrimp Balls)
Morcilla Con Arroz a la Plancha (Pan Fried Morcilla Sausage with Rice) 😋

Foie a La Plancha (Pan Fried Foie Gras) 🤤
We wanted to eat more but we were getting full… Tapas really fill you up fast. I guess we have to wait till the next time. So we asked for la cuenta (check).
Hmm… come to think of it, there were no prices on the chalk boards? I wonder

 it's super expensive? After all, we are right by the cathedral…. 

🤔😱
….. wrong! It was quite normal. I mean cheap for being where it is. The price is more like what they charge in our barrio (neighborhood).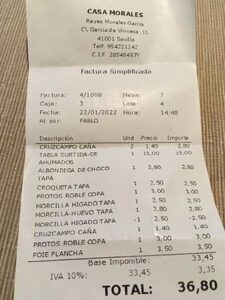 For two people, it's a lot of food… 😂
Our radar was right on about this place – it was definitely worth having it on our wish list ! 💮 We recommend Casa Morales to anyone who wants to enjoy the old Sevilla atmosphere and good food. We will be back very soon, too 👏🏼👏🏼👏🏼
➡️  Casa Morales ✨ Calle García de Vinuesa 11, Sevilla


Please click here to support my blog for the ranking. Thank you / Gracias! 

Please click here to support my blog for the ranking. Thank you / Gracias!