Fun Handmade Ceramics were added to my collection this week!
Our friend's ceramic studio is located in the same complex as our studio. So we say hi every time we pass by but today it was closed for El Dia de Reyes (Three Kings' Day) which is a national holiday in Spain. However, this treasure box and a sign caught my eyes…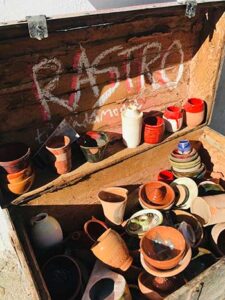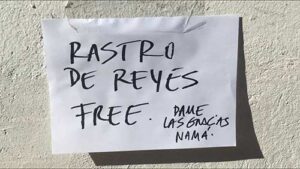 DAME LAS GRACIAS NAMA' (Give me "thanks" and nothing else) 😂 So it said in Andalusian style! 
It says Rastro (flea market) and on top of that, it says it is a "Rastro de Reyes" Kings' Flea Market 😉 And… it got me all excited 'cause it said they were all free!!!

So many to choose from… It was hard to pick… Obviously the shopping is not my thing 😅)
Actually our friend had given me various Ceramicas (ceramics) before and I love all of them ❤️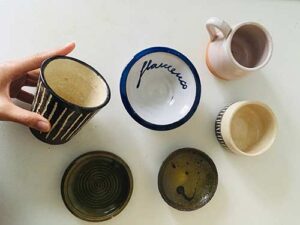 My collection from our friend's ceramic studio.
…. perhaps I went overboard? Look how many I picked(I hope it was ok…😅)They are so much fun and so cute!
My new acquisitions.
When I was living in the US, the norm was to go to stores like William Sonoma, Restoration Hardware, Crate & Barrel, Ikea…. 🙄 for dishes that looked all the same (now I think of it…. it was quite boring 😅).
Your taste changes with time. Handmade ceramics are so much fun. Also it's environmentally friendly! In this case, they were free so it made me even happier 😂

This ceramic studio is right inside of the complex where our studio is located. 
There are lots of ceramic studios in Seville. If you are going to visit the city, you should try it out! Even for those who are living here, it is highly recommended to experience a part of Seville's culture. This studio offers ceramics making classes as well. Also our friend is flamenco aficionado (lover/fan) so you could be listening to flamenco music while turning the potter's wheel! We tried it once and loved it ✨ You can also enjoy fun homemade ceramics at home.
I am so excited about my new ceramic dishes. I get the inspiration from them 🤩 What should I cook next?
Lots of "Thank You" to:
➡️
La Tierra del Monje Cerámicas
✨ Plaza del Pelicano 4, Local 3
@ceramicaslatierradelmonje (Instagram)


Please click here to support my blog for the ranking. Thank you / Gracias! 

Please click here to support my blog for the ranking. Thank you / Gracias!