"Where can I go flamenco shopping in Sevilla?"
I get this question all the time from flamencos who are visiting Seville. It's normal since time is SO valuable, especially when you are on vacation!
I know you get busy going to your flamenco classes and catching shows. I know you want to find an accessible place in town where you can find what you like ✨ AND I know the quality/price balance is super important to you, too!
On top of all that, I know you look for a good customer service! 👏🏽👏🏽👏🏽 That's why I want to introduce this Flamenco shopping spot in Seville that meets all of your criteria!
I came to Seville 22 years ago for the first time. Since then, I have been to many different places to shop for flamenco costumes and accessories.  I also have my costumes made many times. However, this place has been my number-one pick for the last several years and I want to share this info with you! ✨
FlamencoPasión
It's located under Las Setas, and it's very easy to find.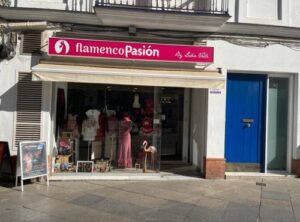 The owner of FlamencoPasión, Lidia is a flamenco dancer, too! So no wonder, her advice is thorough and thoughtful. Everything from functions, shapes, what type of fabrics…. to how to care for your garments… she can give you guidance so you can have your dream costume for your next performance or a good looking skirt for your practice!
Below you will find 3 reasons why I highly recommend FlamencoPasión to my fellow flamenc@s:
Reason 1 ✨ You can find good stuff very quick!
You can chose from what they have on the rack so you can finish your flamenco shopping in no time!
Faldas (Skirt), blusas (blouzse), vestidos (dresses), bata de cola (train dress/skirt), delantales (apron), mantoncillos (small shawl), accessarios (accessories) etc.…
They have them covered!
If they don't have something….  Don't worry! They can make it 👏🏽👏🏽👏🏽 Hombres (guys)! Of course, for you, too 🕺🏻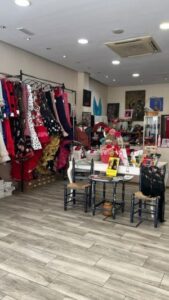 The store is spacious and very organized. There's a huge mirror on the floor and there's a dressing room.  You can even try a bata de cola (a dress or skirt with a long train) in front of the mirror! 
Reason 2 ✨ They are kind and flexible!
You can try whatever they have in the store. If the garment is too big or too small, they can fix that for you pretty quickly (depending on their workloads and how complicated the fix is but they try their best to accommodate your travel schedule).
If you want something you see in the store but in another fabric? No problem! 🤩 They can tailor to your size and your likings.
If you have some more time, an original costume that you have envisioned won't be only a dream. You can sketch out what you want and they could even create a pattern for you (I do this a lot 😆). In that case, you can chose from the fabrics they have in the store or you can go shopping for them (more later )😉.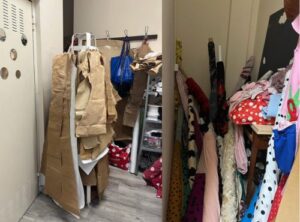 They have some patron (pattern) and telas (fabrics)so you may be able to have a tailor-made costume! ✨
They also have some abanicos (fans) and mantons (shawls) as well as other accessories like pendientes (earrings), flores (flowers). If they don't have what you want, they can place an order for you. If you take advantage of this one-stop flamenco shopping, you can definitely save time and energy. Then you can enjoy doing other things in this beautiful city!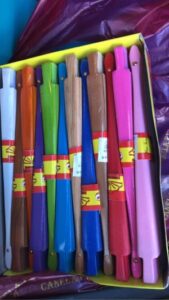 They also have accessories such as abanico (fan), pendientes (earrings), etc.
✅ No time to wait? you can place special orders and they can even ship them to your home. All you need is to ask 😆 Scroll down and see how the special order and mending they do work in details.
Reason 3 ✨ Well-balanced quality and pricing!
FlamencoPasión really is a boutique✨ What they have in the store is all sewn by the costureras (seamstress). They are in the back of the store and are always very busy!

They have a taller (atelier)in the back of the store. 
Even though none of the garments are fabricated in mass, the price is very reasonable. Considering their good and flexible customer service, I sometimes wonder "is it ok to be this reasonable?" Even when you order the tailor-made costumes, the balance between quality and pricing is very fair….. well, I'd say it's more on the reasonable side 👏🏽👏🏽👏🏽
Advice on Flamenco Shopping in General
I highly recommend on going flamenco shopping early on. I know you get busy with taking flamenco classes, going to tablaos or peñas, fiestas, sight-seeing… etc. but learn from my mistakes! Don't wait till the last minute of your vacation to go shopping.
Yes…. I hate shopping! When I used to travel to Spain in Summer, I always procrastinated 😅 My 3 month-long flamenco sabbatical always ended with a panic 😱
You really want to go flamenco shopping early on and see the price, your size, the options you have, etc. You may get lucky and find something you love in your size at the end of your trip but let's remember… it's like finding a parking spot in 2 minutes in la Macarena 🤪 Also, it's not like you are in Spain all the time. So set your priorities and go early 🙋🏻‍♀️
There were many times I ended up with garments that I wasn't totally in love with or its size was a little off…🙈  I had to get it fixed at home but they didn't know "how to" do it well because the seamstress back home are not flamencas…  SO don't make the same mistakes that I did! 😅
⚠️ By the way, be careful with a place/person where you can get ripped off because of the language barrier or they tell you a higher price because you are a foreigner… (Almost all the major stores are fine but some individuals that are known to be a "good seamstress" in town may treat you differently from your Spanish friends 😱) Yep. It shouldn't happen but I have seen it, unfortunately… I stopped going there after I witnessed that years ago and don't recommend them since then.
Tailor-made Costumes
Do you have time? You want an original costume just for you? Then, try tailor-made! There are some fabric stores in the center of Seville where you can go browse around. You can choose what you want. You'll also be inspired by all kinds of fabulous colors and textures!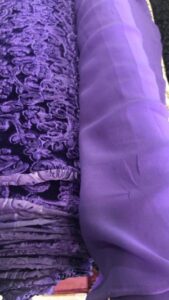 You can find ornaments  in the fabric store as well. 
How long does it take to get the tailor-made costume done? That is depending on the time of the year and how involved the order is. If it's just a fix, they can do it pretty quickly. In any case, don't hesitate to ask any questions you may have early on.
⚠️ In March and April, it's the busiest time of the year for them because of the "Feria de Abril" (every year the dates get shifted around a little bit but generally in April to early May). It's better to avoid those months or order your special costume early.
The flow of the tailor-made garments / resizing & mending
Call or send Whatsapp message to make an appointment if you want to get something tailor made. You don't need an appointment for resizing/mending order. In that case you just go to the store, try on the exiting garments and consult what you need with them.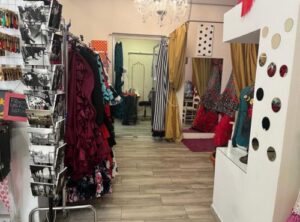 Probador (fitting room)is on the right back corner. 
There are two options for the "tailor-made" costume. Using a patron (pattern)they have or asking to make a new pattern for you. Obviously the latter takes more time. So again, make sure you plan ahead. Here's the flow in general👇🏽
Appointment # 1
In the case of where they create a new patter for you: you take your sketch with you (have your idea clear and explain the details as much as possible). If you have some garments that they can use as a reference, take that with you as well. At this time, they will measure you as well.
ℹ️ As an example, I will explain how I had my last costume made by them.

I sketched out my vision and took a skirt and a shirt that I had as reference for my first appointment. 
They can tell you the estimated time and price then. If you use the fabric that they have in the store, they will give you the price with everything included. If you are going for fabric hunting, they will tell you how much fabric you'd need for what part of the costume.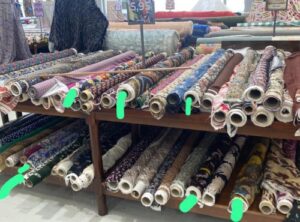 The fabric stores in Seville have variety of fabrics with fun patterns and texture! 
ℹ️ Besides the stores in El Centro, there are warehouses that you could go by bus (in the outskirts of the city of Seville). They have more to choose from and you may find some bargains there.
✅ The quickest way is to use the pattern that FlamencoPasión has and choose from their fabrics they offer.
Appointment #2 (if you are buying fabrics separately)
Take your fabrics to the store and explain exactly how you want ✨

I decided to have this combination of the fabrics for the skirt.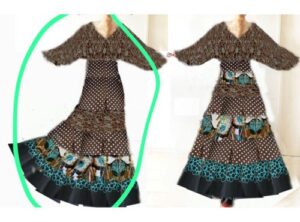 I use Photoshop to make collage to make sure what I envisioned would work. This also helps to communicate to Lidia what I want. 
Appointment #3
Go try them on!  If they need to finalize or work on fine details, you may need to go back once more. But if not, congratulations! You now have your original costume to take home with you.
✅ Are you interested in getting your money back by applying for Tax Free? Don't forget to ask for the form/receipt. It's available in major airports. You can save lots of money! 
That's all! ¡Feliz Compras! Happy Shopping to everyone!
If you need help (advice and translation), I provide my service. Feel free to contact me✨

Here's the photo of the final outcome! I love my new costume 💗


にほんブログ村「スペイン情報ブログランキング」に参加中。ご購読&クリックありがとうございます!

「スペイン(海外生活・情報)ランキング」に参加中。ご購読&クリックありがとうございます!