Happy New Year 2022! Let's get cooking ~ New Year Spring Rolls 🎍🐯
(See below ⬇️ for the recipes in English 🇺🇸 y en Español 🇪🇸)
It's not really an official New Year food but in Japan they say "New Spring" (新春) for the new year anyway….. So why not 😜?!  In my 9 years in Sevilla, I haven't even tried to do a full-blown "Osechi" – it's just so hard to get all the ingredients, unlike in the US… So I just made these tasty Spring Rolls (春巻き)that I was craving. And since we are in Spain, I used the Iberian pork. It's quite easy to make so I hope you enjoy!
🇺🇸 Cut veggies into small pieces
🇪🇸 Corta verduras finitas
🇺🇸 Sauté green onions and ginger with vegetable oil and sesame oil / Add meat
🇪🇸 Saltea cebolleta y jengibre en aceite de vegetal y aceite de sesamo / Añade la carne
✨ In Spain, you can go to your favorite butcher and choose a piece of meat and have it ground ✨
🇺🇸 Once the meat is cooked, add the rest of the veggies
🇪🇸 Después de que esta hecha la carne, añade el resto de la verduras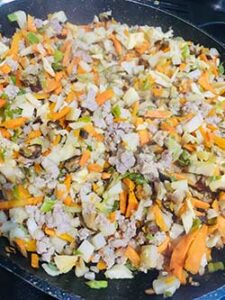 🇺🇸 Sauté well
🇪🇸 Saltea bien
🇺🇸 Add brown sugar, wine*, salt, soy sauce and the water used to hydrate shiitake mushrooms
*Normally we use Sake but we settle for wine (red or white… what's left in the fridge or whatever you are drinking 😆)
🇪🇸 Añade azucar moreno, vino*, sal, salsa de soja y el caldo de shiitake mushrooms
*Normalmente usamos Sake pero nos comformamos con vino (cualquier vino, blanco o rojo….. lo que queda en el frigo o lo que estas bebiendo 😆)
🇺🇸 At the very end, mix the water and cornstarch or flour and added to the sautéed veggie & meat mix to thicken any liquid/sauce left. This also makes it easier to roll the ingredients.
🇪🇸 En fin, mezcla agua y harina fina de maíz o harina normal a la mezcla de verduras y carne para que haga el jugo muy espeso. Se hace fácil hacer rollos también.
🇺🇸 Any asian food store SHOULD have these pre-made shell. I bought a small sized shells for the first time and Ioved them! Make rolls using the mixture of water and cornstarch or flour to close the roll at the end.
🇪🇸 Cualquier tienda de alimentación asiática DEBERIA tener estos hojaldres. Compré los pequeños esta vez y me gustaron mucho. Haz rollos. Usamos agua con harina fina de maíz o harina normal para pegar el hojaldre al final.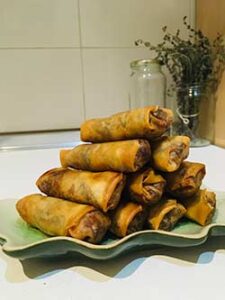 🇺🇸 Fry them in vegetable oil
🇪🇸 Frie los rollos en el aceite de vegetal
🇺🇸 Serve with soy sauce and mustard (I also like the Thai Chili sauce, too)
🇪🇸 Sirve con salsa de soja y mostaza (me gusta con la salsa dulce/picante de Thailandia también)
✨Let's make Asian food anywhere in the world / Vamos a hacer la comida asiatica cualquier sitio del mundo✨
[Ingredients 🇺🇸]
Carrots
Bamboo shoot
Dried Shiitake mushrooms (soak in the warm water / save the water)
Green onion
Ginger
Vegetable oil (to sauté veggies and to fry the rolls)
Sesame oil (to sauté veggies)
Brown sugar
Wine (or Sake if you can get it!)
Salt
Soy sauce
Spring roll shells (pastry)
Cornstarch or all-purpose flour (mix with water)
[Ingredientes 🇪🇸]
Zanahoria
Bamboo
Shiitake setas secas (las remoja en agua templaito / guarda el caldo)
Cebolleta
Jengibre
Aceite de vegetal (para saltear verduras y para freír los rollos)
Aceite de sesamo (para saltear verduras)
Azucar moreno
Vino (o Sake si lo consigues!)
Sal
Salsa de Soja
Hojaldre de Rollo de Primavera
Harina fina de maíz o harina normal  (mezcla con agua)


Please click here to support my blog for the ranking. Thank you / Gracias! 

Please click here to support my blog for the ranking. Thank you / Gracias!