This day's highlights were the discovery of the wildest cala and a must-go boutique restaurant!
To kick off our 4th day, we headed for the northern part of the island, Formentor. Our destination: a lighthouse on the very tip, Cap de Formentor.  From Can Picafort off Alcudia Bay, where were were staying, it was about 45minutes to the parking lot where we had to leave our car and take a bus up to the lighthouse.
What a view!Faro de Formentor(Formentor Lighthouse)
The parking lot and the bus stop is right by the beach and the bus comes every 30 minutes.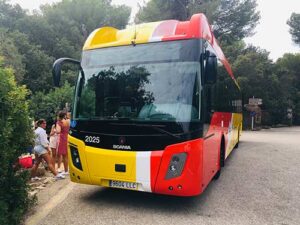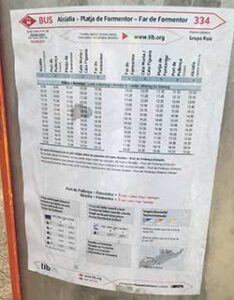 There are people who go up on their bikes or on foot, too 😱 It's a hike all up hill….. I don't even want to imagine how long it'd take…. It takes about 25 to 30 minutes on the bus.

This is the view that waits for you as you get off the bus. You can also see the meandering uphill roads behind.
There's a cafeteria at the lighthouse where we sat on the terrace for a while… but the bus came pretty quickly so off we went back to the parking lot.
No time to lose…We gotta get to the beach, too! 

The lighthouse is a plain ol' normal lighthouse… 😅
On the way back, there were few people who got off the bus on the way. They said they were going to some calas (coves). It sounded interesting but we stuck to our plan and decided to go to the Formentor beach.
Oops… Platja de Formentor(Beach of Formentor)
Formentor beach was about 2 minutes from the parking lot.  It was pretty and it looked like a good place for family with kids and elders. But for us, it was not so exciting….. (my very personal opinion) but I guess, once you taste the wild side of Mallorca, you can never go back to just "pretty"😅
We really had a higher expectation of this beach and thought there would be a plenty of shops and bars also. Well, we were so wrong. We obviously didn't learn our lesson from the day 2 : "Prepare the water and food just-in-case"…..  Our punishment was to buy not-so-tasty bocadillos (baguette sandwich) and bebidas (drinks) that were super expensive 😫😳😤
Off to the Wildest Cala!
Disappointed with the beach, we decided to go back to the bus stop where people were getting off earlier. Once again we caught a bus and this time we got off with a hope to discover a good cala. But there were two calas. So which one to chose?! Luckily, there were some people who came back from one of the calas and recommended Cala Figuera which is located on the left side of the road (facing towards the lighthouse). They said it was VERY WILD. That was it. No more questions were asked and we were off to 20-minute walk down to Cala Figuera.
Not to get confused with the "Cala Figuera" we went on the day 2. The name is the same but there was NOTHING similar to that one!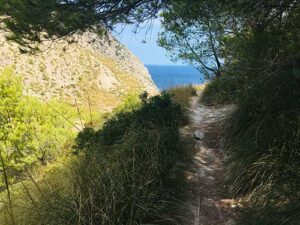 Cale de Moro we went on the second day was also wild but this one seems to be more remote and even wilder. To get to the cala, there were hardly no paths.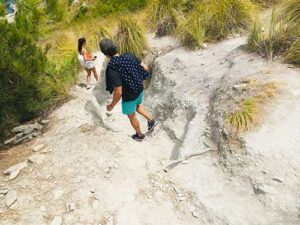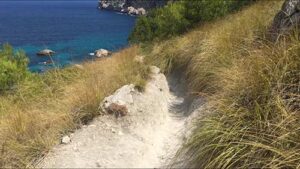 We could see the water a little by little and finally we could see the whole cove.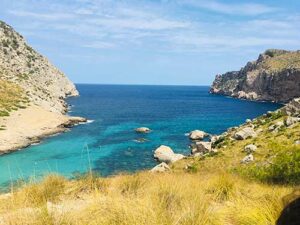 Then we spotted a dog-like animal…
It was a mountain goat and there were more than one…..
They are not shy to humans… Actually, they just barge in to eat people's foods. They seem to know whom to attack, too…. They didn't come to us 🥋😂
They are constantly looking for foods 😅
We found an abandoned boat house to settle.
But it must have been his house ⬇️😆
The water was crystal clean and emerald-green but we spotted some jellyfish so we went off to find a new spot.
Look for rocks that can be used as steps so you can go in and out of the water easily. 
Further up, the water seemed a bit wild but no jellyfish was in sight. It was a perfect spot to snorkel and you could see colorful fish, sea urchins, etc. We just had to be careful with the waves against the rocks though…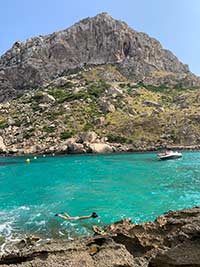 Some people visit this cala on boat. 
We all agreed that this was so far the best and wildest cala we visited. We wanted to stay longer but we had a dinner plan so we said good-bye to the mountain goats and went back where we came from.
In any cases, you should leave calas when the light is still out. It gets dark and you can easily get lost. Locals told us that they have a lot of cases where the rescue team has to go find visitors from the mountains and calas in Mallorca!

Adios, buddy 👋🏼
It's a steep path up to the main road… Thank goodness we are in shape 😅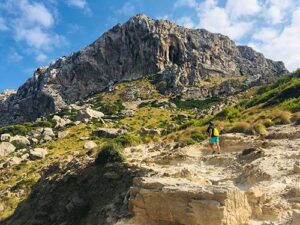 A sign for the other cala by the bus stop…. We'll visit the next time. 
Highly recommend~Mirador Es Colomer (View Point)
On the way back, we found a good view point called Es Colomer. It's another up hill from the parking (or street parking), but in this case, it is designed well and paved. So I recommend everyone to stop and get to the very top for an amazing view!
You can go all the way up!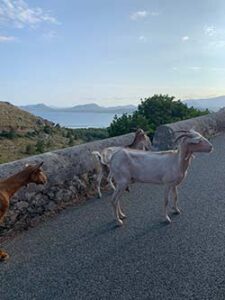 Another group of mountain goats were blocking us 😆 Hasta luegooo (See you later)~
Local produces and wine 〜 Restaurant DaiCa
In the evening, we had a reservation at DaiCa which is located in a town called Llubí, a quaint town not so far from Can Picafort.
The owners are a couple from the island. They use local produces and serve locally produced wine. You can see their care and detail in everything from their logo to the presentation.
Details everything: The husband comes to each table to greet the customer. The wife is the chef. 
Each person choses one of two menus:Temporada and Fiesta  
We chose "Fiesta". A bottle of white wine we ordered was from Mallorca as well.
9-course menu with some extra goodies were SO delicious and totally worth it ✨ I plan to do a separate article about this restaurant in detail❣️
Reflection of the Day:
Learn from our lessons….. 😳
Prepare water and food for just-in-case (the same from the day 2 🤯)
There were our usual mishaps but, in the end, we were very satisfied with the discovery of the wildest cala & boutique restaurant, Daica. Hop over to the last article in the series, Mallorca Trip Day 5 on Mallorca Hospitality and "Snake" Cala!
Wildest Cala & Boutique Restaurant


Please click here to support my blog for the ranking. Thank you / Gracias! 

Please click here to support my blog for the ranking. Thank you / Gracias!