Which churros would you like? Potato-based or flour base?
There are good places for both types. Today I'd like to feature two bars in El Centro (city center) with some tasty churros!
Basics of Churros
So there are two types of churros:
Flour-based one is called Churros de Rueda…
and the potato-based ones are Churros de Papa.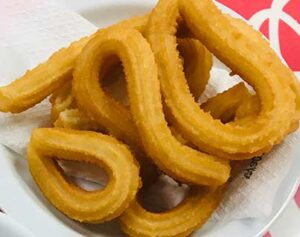 I personally like Churros de Rueda better but the potato ones are quite yummy as well. Normally, everyone eats churros for Desayuno (breakfast) or Merienda (snack time). And lots of people like to dip them in Chocolate (thick hot chocolate).
The Battle of Potato vs. Flour
Let's compare two:
The reasons the flour ones are so tasty :
Outside is nice and toasty and the inside is very fluffy. 🤤

They are big but light.
The reasons the potato ones don't fall behind:
Outside is even toastier and the inside is soft and chewy. 😋

They are smaller and easier to eat. 
"El Comercio" ~ Flour-Based Churros
If you crave for Churros de Rueda, I'd recommend this place!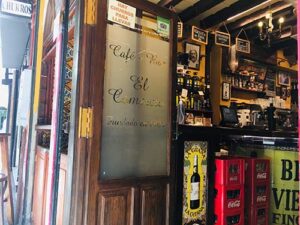 They always have them freshly-made. You can even take a peek at how they are made. You just have to walk towards the end of the counter and you'll see the frier.
The consistency and the sweetness of the chocolate is perfect!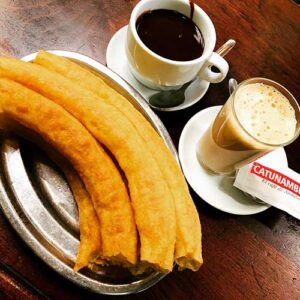 I love the ambience of the bar. It feels old-time Sevilla!
You can also order para llevar (to-go)!
"Bar Duque" ~ Potato-Based Churros
This place popped up in my mind for the Churros de Papa!
They make churros all day, too. They are open from 7am to 11pm so you could go anytime and eat freshly-made potato-based churros.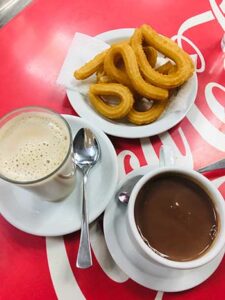 Their chocolate was also yummy! Compare to the chocolate from El Comercio, it is lighter in color and a bit runny in its consistency. It's good one not to just dip but to drink straight up! It is located right next to the main El Corte Ingles in El Centro so you can't miss it. 
El Corte Ingles is a large department store. They are chain and you can find them everywhere in Spain! 😆
The ambience is very much like a "neighborhood joint". ✨
It's a Wrap!
In the end… it doesn't matter which ones are your favorite. They both are great! Javi also votes for Churros de Rueda but actually, he would just settle for the closest one he can find when he is craving them…. 😂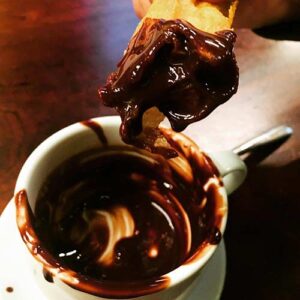 Now you know which churros would you like?

Obviously they are fried and we can't eat them everyday… but talking about                                                                                                                                                                                                churros made me want some 😅 I periodically try out churros from many different places in Sevilla and keep comparing so I will be posting other findings in the future!


Please click here to support my blog for the ranking. Thank you / Gracias! 

Please click here to support my blog for the ranking. Thank you / Gracias!